A private plane carrying Sputnik-V vaccine doses later determined to be fake was apprehended in Mexico this week. The plane was headed for Honduras and most of its crew are employed by Grupo Karims, owned by Mohamad Yusuf Amdani, one of the richest people in Honduras. Local media reports in Mexico indicate that the crew has been released, but little is known about why they were transporting the fake vaccines.
By Vienna Herrera
A private plane was apprehended on March 18 in Campeche, Mexico carrying 5,775 doses of vaccines with Sputnik-V labels. The plane was headed for San Pedro Sula and was carrying staff from Grupo Karim's, a textile manufacturing and real estate company with operations in several countries, including Honduras.
The vaccines were hidden in two coolers under soft drinks and candy. The Russian Direct Investment Fund, the entity that funded the Sputnik-V vaccine, analyzed photos of the vaccines and said, "The container and label design both indicate that this is a fake substance," adding that authentic vaccine labels bear QR codes for traceability.
Gustavo Ramon Raudales, one of the people listed on the plane registration, is the general manager of Grupo Karim's per the Open Corporates website. According to a study on post-coup political and economic power structures in Honduras by Harald Waxenecker (commissioned by the Heinrich Böll Foundation), Raudales is a key figure in several business groups whose flagship companies in Honduras are Altia Business Park, Village Center and Park Energy.
Grupo Karim's origins are in Pakistan, but it currently owns textile and real estate companies operating in Mexico, Guatemala, Nicaragua, the United States, the Dominican Republic, the United Arab Emirates and Honduras. According to Forbes magazine, Karim's revenues exceed US$5.5 billion per year, which makes its owner, Mohamad Yusuf Amdani, one of the richest men in Honduras. Forbes lists him as one of the 12 richest people in Central America and the third most influential. 
Other Grupo Karim's employees on that flight include Julio Cesar Martinez, the chief financial officer per his LinkedIn profile; Leonardo Alejandro Lopez, an executive according to media reports; Martha Josefina Castro, customer service manager for Altia Smart City; and Dr. Gustavo Bueso Madrid, a urologist for various Honduran private clinics.
Altia owns buildings in San Pedro Sula and Tegucigalpa that house more than 15 call center companies, including Startek and Allied Global. It was also one of the first companies to be allowed by the Honduran government to continue operating after the pandemic state of emergency was declared on March 14, 2020. On March 16, Altia issued a statement on Twitter confirming that it was in compliance with all required COVID-19 protective measures, after a government inspection prompted by an anonymous phone call. A few days later, the company denied a rumor that one of its employees had been infected with the virus.
Mexican media outlet Tribuna Campeche reported that the Mexican authorities had released the six detained Hondurans, and that there is still no official statement on the source of the allegedly fake vaccines or on the statements from the plane's crew. 
The Honduran Ministry of Justice (Ministerio Público – MP) has stated that it's up to the Mexican authorities to investigate any potential crimes. Several media outlets quote MP spokesperson Yuri Mora as saying, "The first thing a lawyer would ask is – what crime did they commit in Honduras? Obviously, they haven't brought those vaccines into our country, so Mexico is responsible for any investigation because that's where they were seized." 
Mexican media outlet Milenio reported that Horacio Duarte, General Administrator of Customs, informed them that the fake vaccines may contain saline water to be used in a Honduran vaccination scam, or that they could be a new method for transporting illegal drugs.
Meanwhile, Mora announced that the MP has identified three sellers of COVID-19 vaccines that are being investigated by its consumer protection office. "No private sales of vaccines have been authorized," said Mora. 
According to Mexican authorities, the Cessna 414 aircraft (tail number HR-AYI) transporting the vaccines landed in Tapachula on March 16. It departed from San Pedro Sula and was piloted by David Villalobos and Aldo Romero. 
Grupo Karim's has textile manufacturing companies in Campeche, and in 2019, Amdani built a beachfront mosque in the area. In April 2020, Gurpo Karim's donated 6,000 3M-brand N95 face masks to Campeche Governor Carlos Aysa for distribution to front-line health care workers by the Campeche Health Department.
Contracorriente contacted Grupo Karim's to obtain the company's official statement on the incident, but it did not respond to our interview request nor has it issued any public statements. Contracorriente also contacted the Honduran Ministry of Justice for a statement on the incident and to inquire whether the people involved had returned to Honduras, but there was no response.
Miriam Aguilera, spokesperson for the Honduran Association of Microbiologists, said that the seizure of these fake vaccines could mean that similar shipments have already been brought into the country. "If these vaccines were coming illegally from Mexico, it could have been a second shipment or maybe more. People need to be smart about where they are vaccinated; it's best to go to your nearest health center." Something similar happened with the rapid COVID tests, said Aguilera. Tests were shipped to Honduras by mail even though the private importation of tests was not authorized.
Francis Contreras who heads Honduras' Health Regulation Agency (Agencia de Regulación Sanitaria – ARSA), noted that the way these vaccines were transported was dangerous. "Aside from the smuggling, there is a significant safety issue here – lives are at risk. Vaccines shouldn't be packed in ice cubes. This denatures the vaccine, which poses a high risk for anyone," said Contreras.
Dr. Ramón Maradiaga says that the adverse effects of these fake vaccines are unknown "because, of course, there are no studies on their safety. Worst of all, they don't offer any protection against COVID-19. People might get a false sense of security and then contract the virus. They could have complications from the disease and the vaccine itself."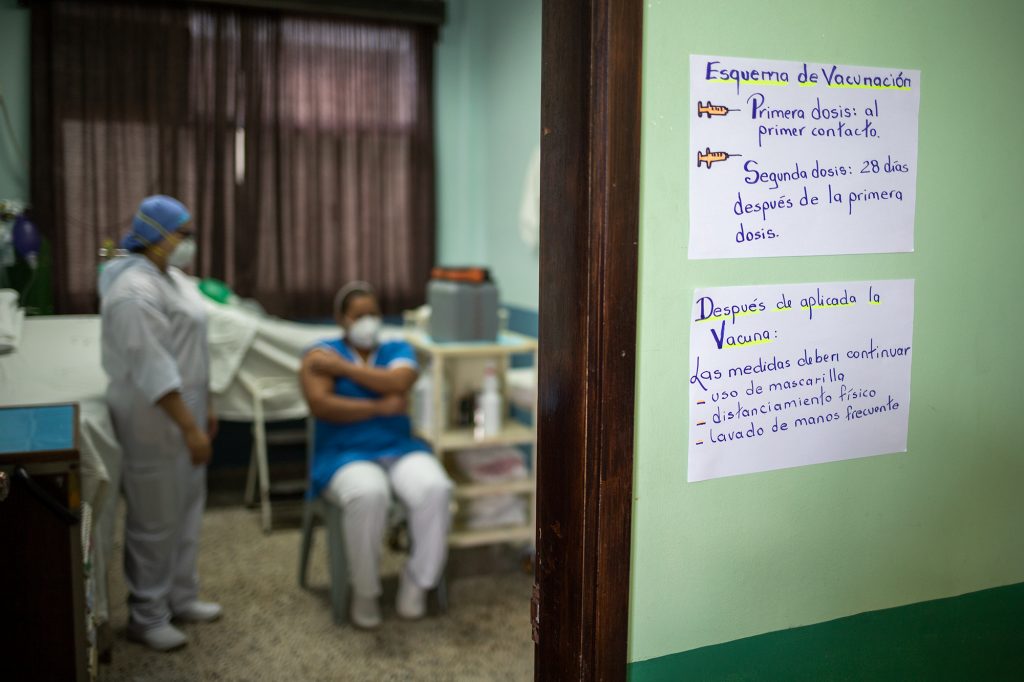 Hondurans wait for vaccines amid a surge in infections and deaths
The main hospitals in San Pedro Sula and Tegucigalpa reported that their COVID-19 units were at full capacity in February and March. SINAGER (Sistema Nacional de Gestión de Riesgos), the government emergency management agency, reported 1,842 COVID-19 cases and 49 deaths from March 17 to 19.
Ligia Ramos, a front-line health care worker at the Honduran Social Security Institute (IHSS) Hospital, told Contracorriente that they were overwhelmed once again. "We have seriously ill patients waiting for spaces in the intensive care unit, and we're having to make decisions to treat the younger COVID-19 patients who are more likely to survive. We're in a dire situation here," she said.
"I know that other hospitals are also experiencing drug shortages, not just here in the IHSS Hospital. Some medications are controlled; we can't just give prescriptions to family members because they're only for hospital use. Our institutions don't manage the medication inventories well. These medications either need to be purchased or released from the central warehouse inventories," says Ramos. 
She also says that in Tegucigalpa alone, at least 15 people are waiting in triage areas for admission to hospital COVID-19 wards. Moreover, three to six people are waiting for admission to intensive care units.
Honduras started vaccinating health care workers less than a month ago. So far, all of the doses administered have been donated by other countries. Israel sent 5,000 leftover Moderna doses to allies that moved their embassies to Jerusalem instead of administering them to Palestinians in the country. Another 42,000 AstraZeneca doses were donated through the Gavi Vaccine Alliance that is co-managing the COVAX program, a mechanism created to accelerate vaccine production and ensure fair and equitable access for all countries.
Meanwhile, the IHSS directly purchased 1.4 million doses from AstraZeneca that will be delivered to Honduras between May and November. These doses will be used to vaccinate everyone insured by the IHSS and their eligible dependents. The Honduran Council for Private Enterprise (Consejo Hondureño de la Empresa Privada – COHEP) issued two financial sureties totaling US$3.36 million (60% of the AstraZeneca contract amount) to ensure that the IHSS would prioritize vaccines for the private sector. Extrapolating from this data, the AstraZeneca contract is estimated at US$5.6 million, or US$4 per dose. 
COHEP president Juan Carlos Sikaffy, recently held a press conference to ask the government to authorize the importation of vaccines for immunization of private sector employees. He promised that no one was looking to profit from this, saying, "We would vaccinate for free. Our interest as private companies is for all Hondurans to be vaccinated so we can get back to normal." Sikaffy claimed that private enterprise would lose more by maintaining the current restrictions than by spending money on vaccines so the economy could open up again. 
Dr. Ramon Maradiaga feels that for now, "Importing and administering vaccines should be the sole responsibility of the government. This may be opened up later to the private sector, but now is not the right time. Governments, not private companies, are performing these functions everywhere else in the world." 
Dr. Ligia Ramos says that the IHSS has been able to vaccinate all its own staff with the current supply, but notes about 100,000 people work in the health care sector and only 48,000 doses are available. This concurs with some claims that vaccine distribution so far has not prioritized front-line workers.
Some media outlets published the Ministry of Public Health's schedule for vaccinating administrative staff who are not categorized as front-line workers. President Hernandez subsequently ordered a halt to these vaccinations and ordered the prioritization of medical staff.
"The current situation is worrisome because only a minimal number of people have been vaccinated and people are acting like everyone's been vaccinated. A COVID-19 patient can be hospitalized for weeks, which is why our health system collapses with just a small increase in cases. We just don't have the capacity to provide adequate care," said Dr. Maradiaga. 
Dr. Ramos warns that people must still take precautions, especially during the upcoming Easter holidays. "It is irresponsible of the government not to impose restrictions during Holy Week because [our health system] totally collapsed as a result of the recent primary elections, so imagine what will happen with Holy Week. The government will be responsible for more COVID-19 deaths if it doesn't implement the right measures," said Ramos.