Yaudet Burbara Canahuati, businessperson and popular Honduran legislator who is running for re-election for his fourth term, did not declare his assets to the Court of Accounts in 2010, as he is obliged to. It was not possible to establish if he declared the funds he had in the British Virgin Islands of the offshore company he managed there since 2015. Although the law prohibits it, his family's hotel has signed several contracts with the state.
 By: Jennifer Avila, Andrés Bermúdez Liévano and María Teresa Ronderos *
Illustrations: Miguel Méndez
Photos: Antonio Gutiérrez/ Contracorriente
 
The three-time legislator and today candidate for re-election for the National Congress of Honduras, Yaudet Burbara Canahuati, asked the Panama-based law firm Overseas Management Company (OMC) to manage the offshore company Splendid Advisors Corp for him. Splendid Advisors was created in January 2015 in the British Virgin Islands and is still active today.
Having an offshore company is not illegal, but as a public official, engineer Burbara Canahuati, 50, is obliged to submit annual sworn statements of his assets and companies abroad to the Superior Court of Accounts (TSC). In 2010, when he first took office in the congress, he failed to do so. To date, the court has not yet responded to an information access request by this journalistic team, as to whether Burbara had submitted his reports in 2014 or in 2018, when he started his two additional terms as congressperson. 
He applied to register Splendid in March 2015, through the law firm Castillo Associates of Miami. In it, he explained that the company would have US$50,000 in capital, an approximate cash flow of US$500,000 and assets of up to US$1 million. He also indicated that the origin of the funds would be from business and personal savings. The directors and ultimate beneficiaries of Splendid are the congressperson himself and his mother Naval Nayib Canahuati de Burbara, who had founded, together with Yaudet's father, a successful group of companies in San Pedro Sula.
The account associated with the company would be in the BAC Florida Bank of Coral Gables, also in Miami, whose letter of recommendation and bank statement with a balance close to US$20,000 was presented to OMC as support.
These are some of the findings of the analysis made by Contracorriente in Honduras and the Latin American Center for Investigative Journalism (CLIP) of hundreds of documents belonging to several firms specialized in managing offshore companies in Panama, British Virgin Islands and other countries. The revelations of this alliance are part of the cross-border investigation Pandora Papers, led by the International Consortium of Investigative Journalists (ICIJ).
The information comes from a trove of more than 11.9 million documents of confidential financial records of 14 offshore service providers that create and manage paper companies and trusts in tax havens around the world. ICIJ received them from an anonymous source, in separate batches, over several months.
Named the Pandora Papers, these documents, which date from 1996 to 2020 and are in English, Spanish, Chinese, Greek, Russian and other languages, reveal connections with companies and businesses in more than 200 countries and territories. The collaboration of 618 journalists made it possible to investigate hundreds of them simultaneously in 117 countries.
Everyone knows Junior
In March, during the primary elections of the National Party, which currently runs Honduras, Yaudet Burbara Canahuati was the most voted candidate in the department of Cortés, with 33,425 votes, according to data from the National Electoral Council (CNE). Although at the national level his movement lost the internal party race to the faction led by presidential aspirant Nasry 'Tito' Asfura, he is well positioned to be elected for a fourth time in Congress. (See Asfura's story)
The first time that Burbara Junior – as he is known at home – won an election was in 2009, when he was elected to the National Assembly for the same party that brought Porfirio Lobo Sosa to power at the time. (See Porfirio Lobo story). Those elections were particularly tense, as they followed the coup d'état against then president Manuel Zelaya Rosales. In the following elections in 2013, Burbara was elected with 50,000 votes.
In Cortés, Burbara Canahuati is known for being a member of a successful family commerce and hotel business in San Pedro Sula, the second largest Honduran city and the economic center of the country.
In fact, the same law firm, Castillo Associates, that represented the congressperson and his mother to constitute the offshore Splendid Overseas requested the offshore company provider OMC, on the same date, March 24, 2015, to purchase another company in the British Virgin Islands. It was Universal Consultants Trading Inc, in which José Yaudet Burbara Canahuati, the father, who identified himself as a partner of the supermarket Comisariato, and his mother Naval Nayib as final beneficiaries. The associated account was located in the same BAC Florida Bank in Coral Gables, Miami that recommended them. This company is also still active, according to the commercial registry of the Caribbean archipelago.
Her father, who was a popular figure in the region, died that same 2015 and her mother Naval Nayib Canahuati was chosen as Mother Arab Honduran Club 2017 for the family she formed and because she did business together with her husband. Today she chairs the administrative board of the family group.
The Burbara Canahuati family are also sponsors of the Real España soccer team, a classic rival of Marathon in the coastal city. In this region soccer is mixed with politics, and there are several players who have been elected to the legislative branch, among them Wilmer "El Matador" Velásquez and Jaime "El Kaiser" Villegas, who played for the national team. Yaudet Burbara himself was president of his club and today his brother Elías is president.
Business growth
The Burbara Canahuati family's business began in 1987, when they opened the Comisariato Los Andes in the Los Andes neighborhood of San Pedro Sula, a supermarket where the wealthy bought their groceries, including a wide range of imported products.
"You can find the finest in that supermarket, but it's not as expensive as it looks," says Arístides, a local who shopped at the store when it first opened, which is still in the same place. But since then the supermarket has not changed, nor has it opened branches as its competitors have done.
Even so, the Burbara Canahuati family prospered and in 1996 founded the real estate company Inversiones del Carmen S.A. In 2007, they set up a luxury hotel called La Ensenada Beach Villas and Resort on the beaches of Tela on the Atlantic coast of the country, where they have even held meetings of the National Congress, where Yaudet now works.
The Honduran State Contracting Law (article 15, numeral 7) expressly prohibits officials and their relatives from having contracts with government entities. Despite this, the tourism company also had ten contracts with the state for minor purchases for about 2,453,832.08 lempiras (equivalent to about US$105,000 dollars today) between 2016 and 2019, as listed in Oncae's database.
Also in 2019, by Executive Decree, La Ensenada Beach obtained a single contract of almost equal value to these ten. The state paid 2,379,533.20 lempiras (US$100,000) to develop the VII International Congress against Kidnapping at the tourist complex belonging to the Burbara.
In 2013, when Burbara was already a congressperson, his family created Difusora Hondureña de Comunicaciones, dedicated to the commercialization of audiovisual products. In 2015, the same year the offshore companies were created, Yaudet's parents founded another company, Servicios de Contratación de Personal S de R.L. de CV. In all these companies Yaudet, his mother and his three siblings Elías, Siham and Nadia appear as partners.
Although Burbara did not respond to our interview requests for this project, in a survey conducted by Contracorriente in August 2021, the congressperson said that he does not consider himself a public official but rather a man committed to his companies.
Regarding the participation of businesspeople in politics, the president of the Chamber of Commerce and Industries of Cortés (CCIC) Eduardo Facussé, told Contracorriente that, "It is allowed, it is not a sin. The right thing is that it is done transparently." He says, "The Burbaras have a record of being honest people, because they are fighters and have been a family that has worked hard." but he points out that it is not a good idea for anyone to stay in power for so long.
Popular but inactive congressperson
In Cortés they call Burbara Junior the "coffin congressman," because on several occasions he has given caskets to people who ask him for support to bury their relatives. "The help is timely at a hard moment for people who do not have enough money to bury their dead with dignity," said congressperson and renowned former soccer player Jaime "El Kaiser" Villegas in an interview with this journalistic alliance.
It was significant help in a city that between 2010 and 2018 was considered one of the most violent in the world and that in 2020, still in the midst of a pandemic, registered 330 homicides, according to police figures.
On another occasion, Burbara Junior was the only deputy who answered the call of a journalist who was collecting toys for the pediatric ward of the Mario Catarino Rivas Hospital. "To my surprise the man (Burbara) sent eight big boxes of toys. It was practically thanks to him that I did the activity," says journalist Antonio Banegas.
Even his political opponent, congressperson Luis Redondo, recognizes his human qualities. "He does not get into trouble," he says, but clarifies that "his role as a congressperson is regrettable because he never attends the hemicycle (…) He simply appears in the lists, they vote for him and he is elected."
From September 4, Contracorriente has been requesting the attendance record of legislative sessions and the projects presented by Yaudet Burbara from the Congressional Secretariat, in accordance with the transparency law. But at the time of writing, no response had been received.
Even if he has not presented notable legislative legal projects, Burbara has faithfully followed the party line, from the dismissal of four Supreme Court justices who did not commune with the government in 2012, to the ratification of the decision not to renew the invitation to the OAS Mission of Support against Corruption and Impunity in Honduras (Maccih). The Maccih, together with the Public Ministry presented fourteen macro cases to the Honduran justice system in 2018. He has not carried out political control debates and is not very comfortable with cameras and microphones.
The person who has presented projects has been his alternate in congress, Marco Antonio Handal, and according to Redondo, they have been controversial. One of those was promoted to grant last July. It was a profitable 15-year concession for the management of port services in the cruise terminal, merchant ships and cabotage in the Port of Omoa in Cortés to the National Port Authority (ENP) and Inversiones Estratégicas Portuarias S.A. (Investport y Servicios Consolidados S. de R.L. de C.V – Investport) and Servicios Consolidados S. de R.L. de C.V., which is now being questioned by other contractors. Something similar happened with eight contracts to build public works in the most densely populated neighborhoods of San Pedro Sula, where the number of voters is high, just before the elections.
This journalistic alliance tried to contact Yaudet Burbara – by phone call, email and text messages sent by two different journalists – from September 23 to ask him why he had created Splendid Advisors, and if he had declared the funds in his account associated with his company in the British Virgin Islands  to the tax authorities. As of the date of publication, he had not responded.
Asked by ICIJ about Burbara's offshore company, the firm OMC replied in a letter that it cannot answer any questions about its clients because of confidential information statutes, but stressed that it complies with all applicable laws in the jurisdictions where it operates.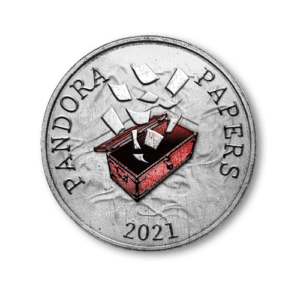 *This investigation was undertaken by Contracorriente and the Center for Latin American Investigative Journalism (CLIP) as a team of the Pandora Papers project of the International Consortium of Investigative Reporters (ICIJ)