By Laura García
The judicial systems of Honduras, Guatemala and El Salvador (the Northern Triangle) are in crisis due to the politicization of their institutions. The citizens of the Northern Triangle expect that their rights and freedoms will be guaranteed through judicial independence and integrity. This was one of the conclusions of Challenges and Threats to Judicial Independence and Integrity in the Northern Triangle, a virtual forum spearheaded by the Foundation for the Study of Applied Law (Fundación de Estudios para la Aplicación del Derecho – FESPAD) to discuss the results of its research on the issue.
The panel of speakers included Leonardo Aguilar of Contracorriente (Honduras), Úrsula Indacochea of the Due Process of Law Foundation (DPLF Peru), Verónica Torres of GIZ (German technical assistance organization), Maynor Alvarado of the Mutual Assistance Group (GAM Guatemala), Héctor Carrillo of FESPAD, and Celia Medrano, a human rights attorney in El Salvador. The research team identified political party interference in judicial institutions as the main obstacle to achieving judicial impartiality and autonomy. Although almost all political parties are guilty of this; the parties in power are the main offenders in delegitimizing judicial institutions and processes.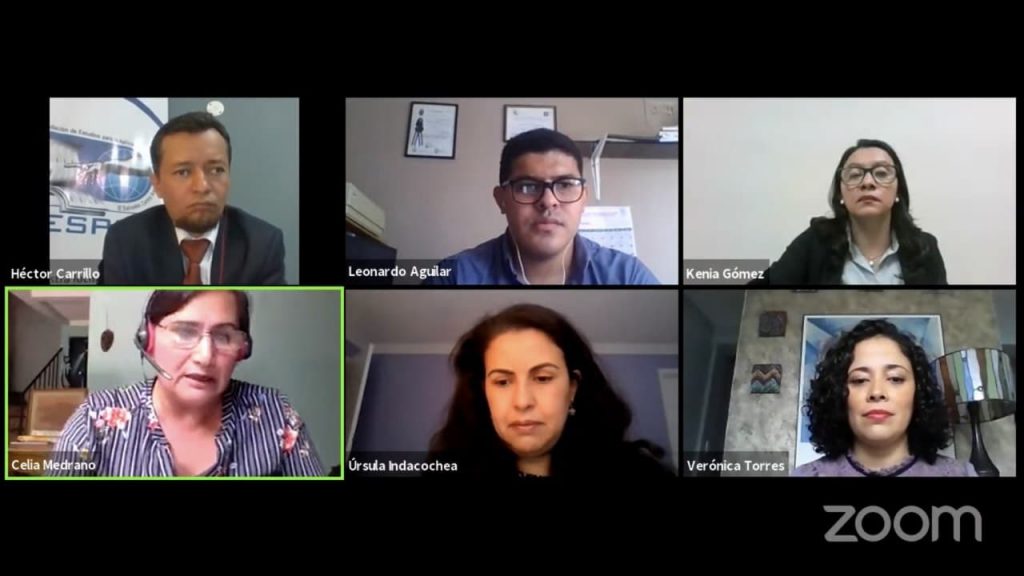 Judicial independence is one of the main precepts of the international legal system. It compels governments to ensure that this independence exists even if the principle is not expressly stated in their respective constitutions. According to Indacochea, "Judicial independence functions as a counterbalance to the other branches of government and confers independence to individual judges." This FESPAD research study was initiated shortly after actions by El Salvador's executive branch eroded the independence of the nation's judicial institutions and legal processes.
Indacochea believes that judicial freedom is not only a universal right of people living in democratic countries, it is the legal principle that guarantees the inherent right of every human being to be heard by an independent and impartial judge. It is an essential element that protects democracies.
Judicial independence in the Northern Triangle
"The Honduran constitution prescribes a republican form of government that is put into practice by independent executive, legislative and judicial organs with equal standing. However, the judicial branch's authority in constitutional issues has been diminished through a series of legislative reforms that shield high-level government officials and business leaders," said Leonardo Aguilar, a lawyer and Contracorriente reporter. 
"[Judicial] independence has been eroded since the 2009 coup that ousted President José Manuel Zelaya, and the unconstitutional reelection of President Juan Orlando Hernández in 2017. Both actions were endorsed by the Supreme Court of Justice, and have resulted in a concentration of power in the executive branch," he said.
Aguilar also pointed to the Defense and Security Council controlled by the executive branch as another mechanism for consolidating presidential power in Honduras. "This is a violation of the Honduran constitution's principles of independence, and other precepts that prohibit the subordination of one branch of government to another equal branch," he said. 
He argues that the powerful elites of Honduras caused another political crisis in 2020 when the new Penal Code became effective. The law favors people accused of crimes such as drug trafficking and money laundering by reducing the penalties for these crimes. This benefits some government officials and their allies in other sectors of society.
FB Live recording (in Spanish):
When a nation's judicial processes are compromised, its citizens often seek external intervention. After the multi-million dollar embezzlement of the Honduran Social Security Institute (IHSS) by public officials, there were widespread demands for a United Nations (UN) commission on public corruption in Honduras. A short-lived oversight and investigation mechanism under the auspices of the Organization of American States (OAS) was ultimately implemented.
In June 2010, the leadership of the Honduran judiciary branch dismissed three judges and a magistrate who opposed the coup against Manuel Zelaya, and in December 2012, the National Congress dismissed four judges of the Constitutional Court. More recently President Nayib Bukele of El Salvador also dismissed Constitutional Court judges, as well as the attorney general.
The Salvadoran panelist, Héctor Carrillo, calls the February 2020 storming of the Legislative Assembly by Bukele and his security forces a breach of legal principles and a violation of the constitutional guarantee of immovability of judges. 
Carrillo says that the president's show of force in that legislative session, "constituted blatantly unlawful conduct that disrupted legal independence and violated Salvadoran legal processes." Carrillo contends that El Salvador now has no legally appointed Constitutional Court magistrates and no president of the Supreme Court of Justice, two factors that could lead to a political crisis.
The ongoing judicial crisis in Guatemala has also deteriorated in recent years. Two years ago this month, the government eliminated the practice of mandatory renewal of judges and magistrates, a setback to achieving judicial independence. Maynor Alvarado said that this regulation is being used to attack judicial norms and hamper election processes, which is a misuse of the country's governance mechanisms.
The Special Prosecutor's Office against Impunity (Fiscalía Especial Contra la Impunidad – FECI) within the Guatemalan Public Prosecutor's Office recently requested the dismissal of pre-trial proceedings against eight Supreme Court magistrates, one magistrate from the Supreme Electoral Tribunal (Tribunal Supremo Electoral – TSE), and one from the Constitutional Court. According to the Parallel Commissions (Comisiones Paralelas) investigation initiated in 2020, the magistrates are involved in illicit activities. Alvarado claims that Guatemalan public officials are always looking for ways to shield themselves from prosecution.
The panelists reiterated the need to rigorously train future impartial judges and magistrates. If Supreme Court justices are to apply the law conscientiously, then they must be provided with the independence and protection they need to function effectively. It's also important to have civil society watchdog organizations and international observers, since these are essential to achieving judicial independence.
Honduras, Guatemala and El Salvador have similar challenges as they try to achieve the equitable application of justice. The three countries need to improve their mechanisms for selecting personnel for the judicial system, and must provide safeguards for judges so that they can apply the law impartially and without interference from third parties.
The panelists also noted the need to provide security for magistrates and shield them from external pressures, and expressed concern about the legal immunity of high-ranking public officials. Honduras, Guatemala and El Salvador also urgently need performance-based processes for the selection, promotion and removal of judicial authorities throughout the system.
The integrity of judicial processes
FESPAD's research indicates that democratic controls are weak and must be improved in order to protect judicial authorities when they face political and social pressures. Furthermore, certain regulations should be eliminated that make it impossible for public prosecutors and other oversight bodies to prosecute public officials implicated in crimes. Legal principles as well as judicial independence and integrity norms dictate that high-ranking public officials should be subject to prosecution when they are charged with crimes.
The critical situation facing judicial institutions in the Northern Triangle is a constant threat to the rule of law, and judicial independence is closely connected to the protection of human rights, said the panelists. In Honduras, the application of the law to ordinary citizens is often stricter than to people in prominent political, economic and religious positions. Many such emblematic cases have been seared into the nation's collective consciousness.