La Lima was the Honduran city hit hardest by Tropical Storm Eta. Its residents are still cleaning out the mud and dirty water that has filled their homes, while yet another storm threatens Honduras.
By Allan Bu
Photos by Martín Cálix and Deiby Yánes
Gumercindo Carpio, boots on his feet and hat on his head, walks down a city street with a guitar slung over his shoulder and sadness in his soul. He optimistically looks around La Lima's city center for customers willing to pay a few lempiras to hear him play his guitar. But Tropical Storm Eta's rains have flooded the city to the point of almost complete ruin.
Mud, stagnant water, and sadness have soaked La Lima's streets. Thousands of household items are strewn all over the sidewalks. People cleaning out their homes and businesses pick their way around beds, living room furniture, televisions, and dozens of other items damaged by the storm, which according to the government affected 2.9 million people around the country. The Armed Forces just reported at the time of publication that 125 bodies have been recovered from the flooded rivers, streams, and storm debris.
Jhony Cerato, head of operations for COPECO (The Permanent Contingencies Commission), the government's emergency management agency, said in an interview with Tiempo that 42,746 people took refuge in shelters, 844 houses were damaged, and 73 homes were completely destroyed. The impact on the country's infrastructure includes 171 damaged road sections and 23 destroyed bridges. 
Crews from the municipality and the central government are now working in the streets of  La Lima, removing tons of mud and waste with their heavy equipment. A nauseating stink covers the downtown area. Rubber boots are a must, as are shovels, brooms and anything else that can be used to clean up the mess. 
This is the scene that Gumercindo finds as he offers his musical talents on the city streets. He knows that it will be tough to find customers, but he's desperate to earn a little money because he lost everything. Gumercindo lives in the town of Pineda, which despite belonging to the San Manuel municipality, is actually closer to La Lima.
"The flooding dumped a huge amount of debris on us – we lost everything in the house. I'm sleeping on a sack that I spread on the floor," says this 71-year-old man. He also laments the loss of about an acre of corn and bean crops washed away by the flood. Thousands of others share the same story.
Santiago Motiño, the mayor of La Lima, told Contracorriente that he estimates the municipality's losses at about 24 billion lempiras (US$960 million), which include damages to private homes, government infrastructure, and crops. He claims that the municipality's largest employer, banana company Chiquita Brands, suffered losses amounting to US$200 million, although he did not cite the source of this information.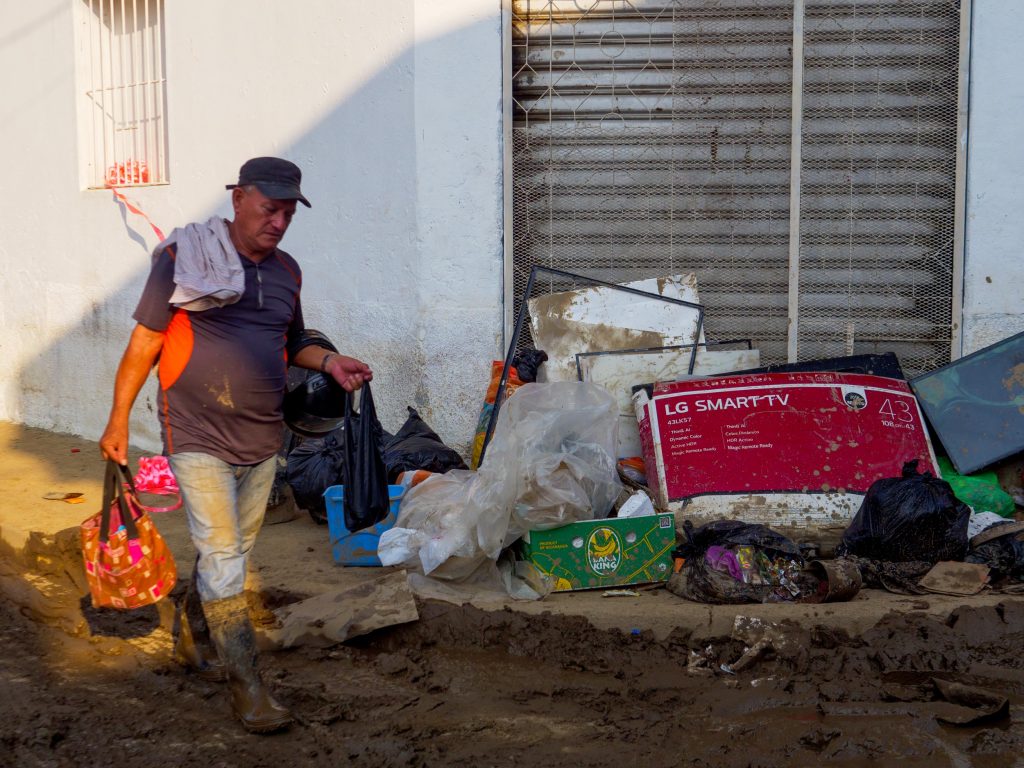 La Lima's history is inextricably linked to the banana industry. This northern municipality became the main focus of development in the Sula Valley when the Tela Railroad Company came to town. Historian Jaime Montesinos told the La Prensa newspaper that it was the first municipality in Cortés to have paved streets and a traffic light. It was called the "the Green Gold capital" back when Honduras was known around the world as the original banana republic.
The capital of the banana enclave on the northern coast of Honduras, it grew to be one of the country's most advanced cities in the 20th century. It boasted a railroad network, potable water and basic sanitation systems, and entertainment centers. La Lima was also where the general labor strike of 1954 began, which led to the enactment of the Honduran Labor Code. 
As bananas lost their place as Honduras' main export crop over the years, major companies like the Standard Fruit Company and the Tela Railroad Company slowly reduced their banana plantations. Tela Railroad still has seven farms in La Lima, but the city's economy has diversified to include manufacturing, commerce, livestock, agriculture (mostly bananas and sugarcane), and a little bit of construction. However, Motiño is quick to point out that banana companies are still the biggest employer.
In an interview with Proceso Digital, economist Alejandro Kafati estimated that the losses to the Honduran economy from the storm could amount to $12.5 billion, or 50 percent of Honduras' gross domestic product (GDP). 
Victimized by a pandemic and a storm
Contracorriente interviewed Luis Eduardo Torres Quan, executive director of Global Brigades, while his team was providing medical assistance in La Lima after the storm. He said that access to public health services in the wake of Eta is worse than ever. The area's infrastructure has been decimated and the Health Ministry is so weak that it's unable to provide medical attention to all the people affected by the storm. While it is true that people have suffered material losses, beyond that, is their health.
Torres says that their medical brigade has observed respiratory symptoms that could be related to COVID-19 among the people they treat in public areas and shelters. He says this could be the result of people living in crowded shelters and in the homes that are still habitable. "That could lead to a very rapid spread of the virus in the northern part of the country," he said.
In light of the government's failure to respond, Torres said that Global Brigades decided to act on their own since many chronically ill people lost their medicines in the floods, and had no money or means to go to a private pharmacy. Since the storm victims had no way of getting to a government health center for medical care, Torres' group instead traveled to these areas to treat patients.
"There are quite a few foot injuries which have to do with them being wet for extended periods. In addition, many people are neglecting chronic diseases like diabetes and hypertension because they can't get treatment right now. This is worrisome – it's hard to take care of everyone with our limited resources," said Torres.
Global Brigades and another organization were able to distribute masks to thousands of people in one La Lima neighborhood. "We do what we can. Today, we're working with these colleagues to give masks to everyone who shows up. But if someone here has the virus, it'll spread quickly in the shelters. The risk of COVID-19 and other diseases is high. Because of the stagnant water, we'll see more diseases like dengue, zika and chikungunya," said Torres.
Torres thinks that the government should prepare a relief response plan that includes an initial phase of attending to people in immediate need of services. It is also important to organize and coordinate people so that they quickly clean up their properties to avoid the spread of vector-borne diseases.
Dr. Atilio Uclés, a doctor at the MAPFRE medical center who participated in a medical brigade which went into La Lima's San Juan neighborhood, told us that the number of infections reported is alarming. The infections observed in the shelters include parasitic and fungal bacteria found in lesions and other infection points on the skin.
"We expect an increase in vector-borne diseases that are endemic to the first weeks of the calendar year, but which also occur throughout the year. Cross-infection is inevitable. We have fallen short in distributing masks and face shields that prevent the spread of infections. We expect COVID-19 cases to surge," said Uclés.
Uclés says that working in the shelters is even more difficult because of the large need compared to the number of facilities available. Overcrowding is inevitable. He reiterates the need to raise awareness about hand washing and the use of disinfectants to lower the risk of coronavirus infection.
"Our number one need is food since many unemployed people and workers from two of the Chiquita's biggest banana plantations, which are close to shutting down, don't have enough income to cover their food needs, and probably won't for the foreseeable future. Secondly, we need personal hygiene items. Our third priority are items for clinical care," he says.
The treacherous water
So much tragedy leaves little room for music. "Right now there's nothing. I don't even have 50 cents. I'd like to have at least something to eat and some water," says Gumercindo. The reality of his situation starkly contradicts the government propaganda that trumpets messages of support for the victims. The truth is that thousands have been abandoned by their government.
Before the floods, Gumercindo, who has been singing since he was 14 years old, played his ranchera music in various La Lima neighborhoods. "Sometimes I would earn up to 1,200 lempiras, enough to buy some food. But now, people just want to clean up this mess," he said.
Gustavo Valle is one of the few people in La Lima who walks around in sandals instead of rubber boots. He is often up to his ankles in the mud. We find him looking for help to clean up his house. He points to his house which is down a narrow, muddy path clogged by pillows, a television, and pieces of wooden furniture. "These are my things," Gustavo tells us.
"We lost everything. We have nothing now, not even clothing. The house is still full of mud and water. We need help cleaning it up, but I know that we're not the only ones," says Gustavo. Every household in Gustavo's Sitraterco neighborhood has a similar story. The destruction is enormous – everyone lost.
Manuel Valle (who is not related to Gustavo) let his guard down at 3 a.m. on Thursday. Since the day before, he had been watching the water level in the Maya Canal, an overflow canal for the Chamelecon River. He saw that the canal's water level dropped early Thursday morning, and told his friends, "There's no more flooding."
The Maya Canal was built in 2005 during Ricardo Maduro's presidency, seven years after La Lima was devastated by Hurricane Mitch. Since then, it has served as a spillway when the Chamelecón River begins to overflow. Now large sections of the canal's banks have collapsed.
"I slept for a little while," he says, maybe three hours. When he woke up around 6 a.m., he remembers hearing a noise that made him uneasy. "Uh oh, what's this?" he said to himself. 
People shouted at him from the street that the river was overflowing. When he looked outside, he saw that the Maya Canal was close to overflowing.  He alerted his family and they managed to get some beds and other belongings up on the roof. Minutes later, the Pineda neighborhood was flooded.
Valle went to bed after seeing that the Mayan Canal was well below maximum capacity, but three hours later he was scrambling for safety. He contends that La Lima was damaged by controlled releases of water from the El Cajón hydroelectric dam. The dam was built on the Humuya River, which flows down into the Ulúa River that runs past San Manuel and La Lima.
Collective panic and social networking have managed to stir up things so that the blame for the sudden flooding in La Lima and other communities such as the Planeta neighborhood has been put on the El Cajón water releases. But some experts say that La Lima was flooded by an overflowing Chamelecón River, which doesn't get any water from the dam's controlled releases.
The government has repeatedly denied that it had conducted controlled water releases prior to last Saturday, when the El Cajón discharge tubes were opened. But doubts remain because the government has lost all credibility – reasons for this mistrust abound. The country remains mired in the worsening COVID-19 pandemic, suffering 101,468 cases and 2,804 deaths as of November 14. Questions about pandemic mismanagement and corruption have dogged the government since the beginning.
María Albertina walks up to us eating a tortilla and asks what we're doing. She wants to know about the new natural disaster that could threaten Honduras. We tell her that it's true – all the weather forecasts indicate that a storm named Iota will hit Honduras as a hurricane. "If this place floods again, it'll be a total disaster," she says. And she's right.
Less than a kilometer from where we're talking, more than 100 meters of the Maya Canal have collapsed. Other sections of the Chamelecón River's banks also gave way – La Lima is defenseless.
The Pineda neighborhood is in the San Manuel municipality even though it's closer to La Lima. According to María Albertina, nobody came to warn them of any danger. "No officials or anyone came to tell us to get out, that the banks are overflowing," she said. She could see the torrent of water coming towards her house, and only had time to grab her keys and lock the door in hopes that nothing would be stolen. Some neighbors helped her climb up onto a terrace. "Almost all of us here lost everything. I think this was worse than Hurricane Mitch," she says.
The municipal building is now a shelter
No one in La Lima escaped the overflowing Chamelecón River. The municipal building has been converted into a shelter for about 150 people. One La Lima resident living in the shelter is the mayor himself, Santiago Motiño. We found him at the entrance of the municipal building sitting at a table, smoking a cigar, with a gun stuck in his belt. He was receiving reports from his staff on the clean-up effort. 
Motiño told us that La Lima was flooded from one end to another, but that the municipal building property wasn't damaged. "This little piece of land is blessed. We're working with complete transparency here, and if someone accuses me of stealing, they should bring proof and say it to my face," he said. 
Motiño is a retired police officer who was elected mayor of La Lima as the Patriotic Alliance party candidate, even though he has long been aligned with the National Party. He is well known for his controversial statements and actions. Amadeo Hernández, a city councillor with the Libertad y Refundación Party, accused the mayor of physical aggression during a city council meeting in July 2019.
Hernandez told the police that Motiño wouldn't allow him to enter the meeting room with his cell phone, and that he refused to hand it over. He was then forcibly escorted out of the municipal building. Many residents of La Lima said that the mayor was nowhere to be found during the Eta emergency. Motiño has been sleeping in the municipal building for a week, and claims that he is fully aware of everything that concerns the people of La Lima.
Many have claimed that the central government failed to alert the public about the impending danger, but La Lima's mayor has distanced himself from these accusations. He said that he sent a fire truck on Monday night and on Tuesday morning a few days before the storm, warning people that they should evacuate the area.
"Did you hear the sirens?" Motiño asks one of his employees who lives in Campo San Juan. When he says yes, Motiño asks us, "Am I to blame that they drowned? I'm not to blame. Right now, everyone is looking out for themselves, but everyone will pull together after the chaos." 
Motiño admits that he cried when he saw all of the devastation. "Look, I'm all man, but I cried. I cried when I saw that all of our honest work was destroyed. Yes, we've been knocked down, but we're not dead yet."
The mayor said that he had a close call with the floods that engulfed La Lima. "I was swept off my feet by a flash flood that surged past the supermarket. I think I swallowed about two gallons of water," he said. 
Not far from where we spoke to the mayor are others who refute his claims. Raúl Lemus and others say that they have received no help from the municipality. Lemus, who we found sitting outside his house, was watching the steady stream of people leaving La Lima ahead of the new hurricane that was on its way. 
Lemus tells us that he lost almost all of his belongings in the floods and didn't eat for two days until help arrived. There was plenty of food once people could get into La Lima, but help didn't come from the central government or the municipality. It came from ordinary citizens like himself.
The damage in the Canaan neighborhood is severe. There is mud and water in most of the houses, but the owners have now started to clean it up. "I was stripped naked," said Santos, alluding to the fact that he lost beds and his other belongings in his modest wooden house, which will have to be rebuilt.
He used to live in Olancho, but a year ago his son, a church pastor, convinced him to move to La Lima where he works in construction. "I only have two changes of clothes – that's all I've got," he said.
Maria Amparo Orellana is Santos' neighbor. Her large family, which includes seven children, has not received any government support, only the help of some kind-hearted people. For now, all she has are some donated clothing and an old television set they managed to salvage.
To earn a little money, she has started cleaning houses in some of La Lima's more affluent neighborhoods. But her family of eleven has many needs. She asks us if it's true that another hurricane is coming. Before we can answer she says with tears brimming, "We have nowhere to go, especially since we don't have any money."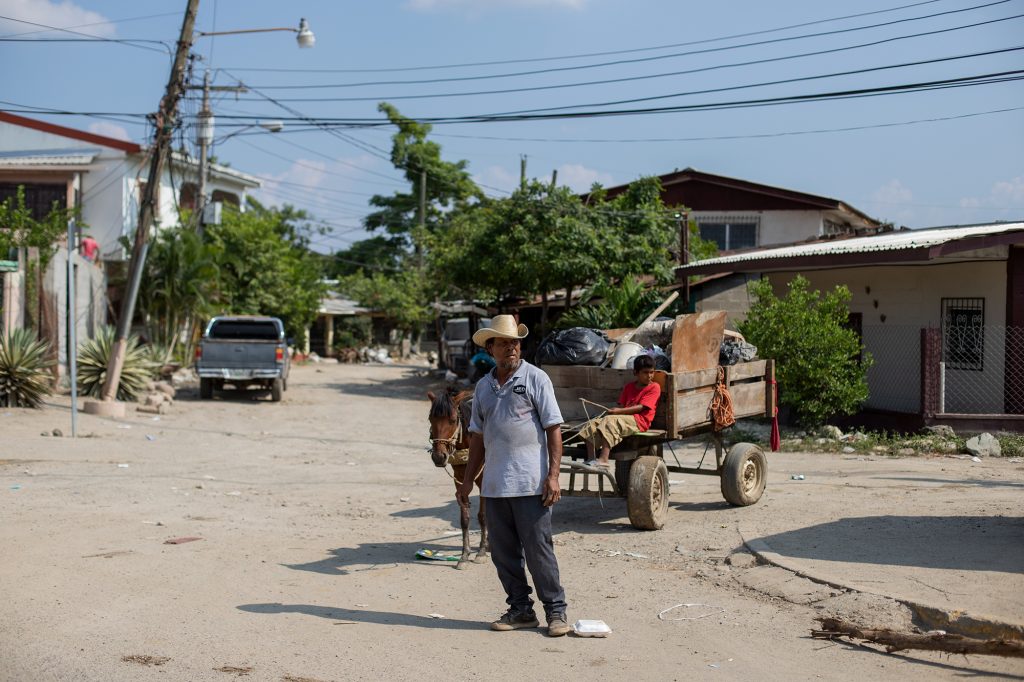 Exodus and uncertainty


The hundreds of La Lima residents who were returning home when we visited on November 13 and 14 had hoped to clean up their homes, salvage what they could, and get back to normal. Instead, they were greeted with a new red alert announcing Hurricane Iota, and had to reverse course.
"People are nervous, desperate, and hungry. They don't know what to do. What's the use of being ordered to evacuate if people have nowhere to go?" asks Lemus as he watches his neighbors leaving again. He will refuse to leave home even if the municipal and central governments order a mandatory evacuation.
Lemus explains why he prefers to stay home even though he has nothing left. "They only tell us to go, go, as if they were running us out of our homes. But where are we supposed to go if the authorities don't tell us that they have a place for us to stay?" He thinks that if given somewhere safe to stay, people like him who are reluctant to evacuate right now will be more willing to leave because "nobody has anything left anymore."
We found Angelica Arriaza and her family by the side of the road between San Pedro Sula and El Progreso. She's with her mother, Beatriz, and her grandmother, Olga, and has been there for nine days now. She managed to salvage some living room furniture, and sits resting in the shade under a tree. She and her family went hungry for two days.
"We had some bad nights in the cold and rain. We didn't have anything to eat because none of the aid had reached us yet. There was no way in or out – we were trapped," she said. The alert about the new tropical storm coming their way made her decide to move to a shelter in San Pedro Sula. But this means that they'll have to leave behind their few remaining belongings.
"The evacuation order is mandatory, and everyone is trying to save themselves. We've already lost just about everything. This stuff here is all we have left, but we can't take it with us because there's no room in the shelters," she said with a resigned smile.
Juan Ramon Martinez has already decided that he won't evacuate. He's a 63-year-old man with an old horse and some pigs and chickens to care for. "Who will feed my animals?" he asks. He says that he'll stay on the El Progreso-San Pedro Sula road. He wants more help from the city's municipal authorities, and says that he hasn't seen Mayor Motiño at all during this crisis. "We only survived because other people gave us some food," he says gratefully.
Casta Chávez is also refusing to evacuate. She had to leave her home in the September 23 neighborhood, and is now camped by the side of the El Progreso-San Pedro Sula road. She lost practically everything, and still has not been able to enter her home because the water is still up to the ceiling. She also claims that the government has abandoned them. "Nobody from COPECO or any other government agency has come here," she says.
COPECO, led by former reggaeton singer Max "Killa" Gonzalez, clearly failed to respond adequately to this emergency. Its public statements contrast sharply with what the storm victims are saying – they feel abandoned.
Casta also went through a rough time during Hurricane Mitch in 1998. She wants to make it clear that she's not alarmed by the evacuation order. In her opinion, the worst is over. "I won't leave, and I'm not afraid," she says. 
Others prefer to flee from yet another calamity. We stopped Walter as he was riding by on his motorcycle with his wife. He's wearing shorts and rubber boots. Just a few hours after he got home to start cleaning up, the red alert for Tropical Storm Iota was issued and he left home again. 
Walter lives in the Campo San Juan area and lost everything in his house. He was rescued by helicopter on November 7, two days after the flood. That's why he didn't hesitate to evacuate once the new order was issued. 
The crisis continues for La Lima, a city devastated by Tropical Storm Eta. Wounded by the chaos and destruction, the city waits for another storm to hit, defenseless.